Ja Ni har väl vid det här laget listat ut att jag är ganska så besatt av nagellack. Därför tänkte jag bekänna färg genom att publicera lite bilder på min samling. Nu vill jag inte att Ni ringer psykakuten, jag klär nämligen inte i vita tröjor.Istället kan Ni mata min mani genom att skicka nagellacksbidrag hem till mig. Haha! Och Ni som stör Er på min nagellacksmani kan sluta läsa nu. Besök istället aftonbladets hemsida och vältra Er i smaskiga bilder på Norges bekostnad. För det verkar ju mycket vettigare!
English: I thought I'd share some pics with you guys. Just to show you my collection. Personally I love to look at other peoples storage and polish collections, so here is mine. Enjoy!
______________________________________
Först ut är en bild på platsen där jag oftast målar mina naglar, eftersom jag förvarar lacken i skrivbordslådorna.
>>>

This is where I usually do my nails. I keep my polishes in the drawers of my desk.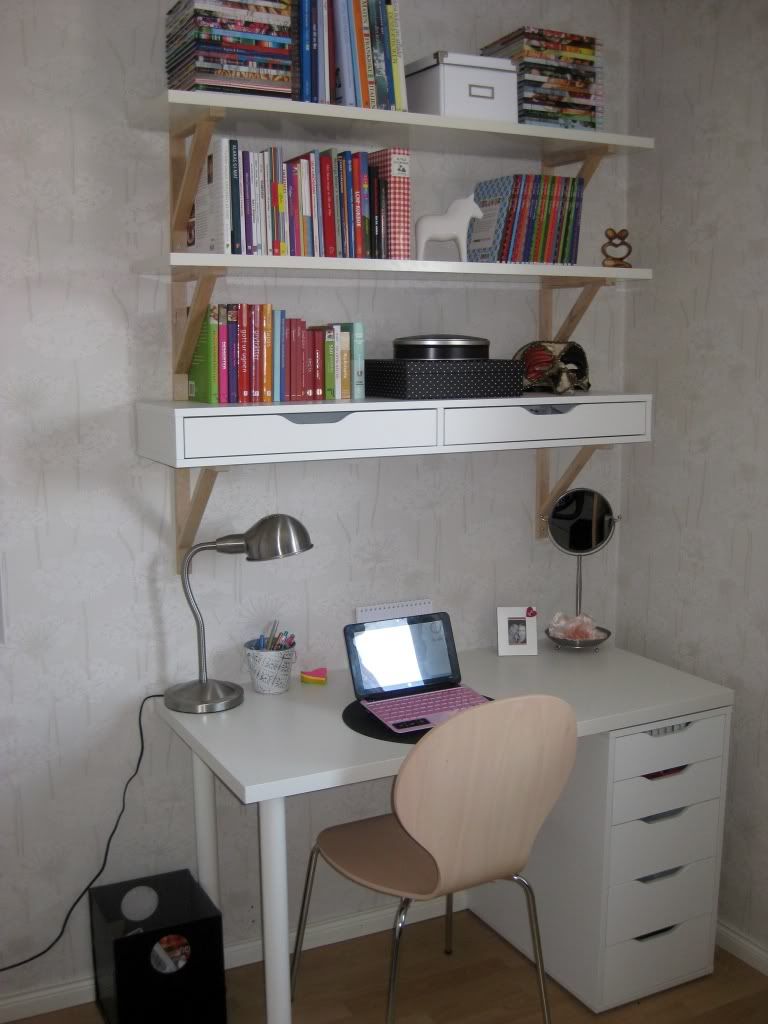 I översta lådan står dom, alla mina 175 st älsklingar. Får inte plats med fler i den lådan så jag måste nog omorganisera hurtsen en aning. >>> Here they are, my darlings. There's 175 bottles in the top drawer. Can't fit another bottle in there so I need to start on a new one.
I andra lådan förvarar jag mina bas- och topplack och andra behandlingar/nyttigheter för naglarna, samt allt som har med nail art att göra; akrylfärg, penslar, dotting tools, glitter, paljetter, strasstenar, stripers, stickers, folie, Konad stamping och mina nagelhjul. >>> In the second drawer I keep my base and top coats along with other nail treatments and alot of decorations such as; acrylic paints, brushes, dotting tools, glitters, sequins, rhinestones, stripers, stickers, nail foils, Konad stamping and as you can se my nail wheels.
Den tredje lådan är inte så skojig. Där förvarar jag mina tomma nagelhjul, nagelfilar, aceton, bomull och annat tråk. >>> The third drawer isn't that fun. This is where I store my empty nail wheels, nail files, buffers, removers, cotton and such.
That's it for now. Ciao!